Version
Download

560

Dateigröße

159.14 KB

Datei-Anzahl

1

Erstellungsdatum

Januar 23, 2018

Zuletzt aktualisiert

Januar 7, 2019
NMEA monitor program
NMEA Monitor Program for PCs
The navtec GmbH presents a monitor software for NMEA data sentences. This program is available free of charge to be downloaded from our server. The description and installation  guide is provided below.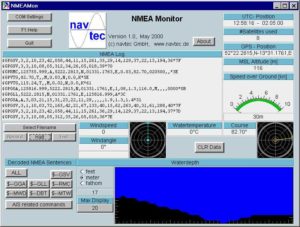 .
Description :
.
The NMEA monitor program from navtec GmbH could be used to display and analyze NMEA data from different sources like GPS, souder, etc. It also allows writing of received data to disc.
In the first revision of this program especially NMEA data from GPS receivers like the navtec GPS-N1 could be displayed and analyzed. All NMEA data sentences, starting with "$", are displayed in a text window. Some selected data sentences are displayed grafic. The program will be extendend in the furure, please let us know your suggestions. In later versions a synthesis of data sets is planned. Please note, that a TTL-to-V.24 interface is needed to connect a NMEA data source to the PC COM ports. The navtec NMEA-monitor supports all four PC COM ports.
Attention :
The navtec NMEA monitor is provided as-it-is, free of charge to be downloaded from our server. We do not guarantee anything. We are not liable for any use or misuse of the software. This software is for demonstration and evaluation purposes only. It is not to be used for navigation.
.
Usage and Installation :
The ZIP-file 

hpveeruntime.zip

 (5,266 MByte) should be downloaded only once. It only contains the four HP-Installation discs of HP-VEE runtime. Unpack the file to a temporary directory. Start install.exe and follow the instructions for installing HP-VEE runtime on your PC.
.
The ZIP-file 

nmeamonitor.zip

 (155 kByte) must be downloaded when a new version of the navtec NMEA is made available. This file contains : 

navlogo2.bmp

, 

cw3230.dll

, 

nmea.dll

, 

nmeavee.h

 and 

nmeamon.vxe

.
.
It is recomended to generate a link on the PC-desktop to nmeamon.vxe. This is the file to be executed.